The Liberal Party's desperate attempt to undermine the economic value of investing in education once again reveals what they really think about the worth of Australian schools, students and teachers.
The Liberal Party sees education as a cost that should be avoided. The Labor Party sees education as a non-negotiable investment in our future prosperity.
In his National Press Club speech yesterday, Shadow Treasurer Chris Bowen said:
"Let me tell you, there's a clear and unmistakable economic dividend, the OECD has identified it, a 2.8 per cent lift in GDP if we can get every school student with the basic skills they need when they graduate."
This is correct.
Finance Minister Mathias Cormann tweeted: "The 2.8% figure Chris Bowen is asserting is to 2095!"
This is wrong.
The OECD Report Universal Basic Skills: What Countries Stand to Gainshows that if every Australian in the workforce today had benefited from a quality education and finished Year 12, Australia's economy would be 2.8 per cent larger.
The long-term benefit to GDP of investing in better schools is 11 per cent.
This shatters the desperate Liberal claim that we can't afford to invest in education. The truth is, we can't afford not to invest in education.
Gonski is good for growth. By fully funding the Gonski reforms, Labor will ensure that Australia has stronger economic growth and Australians are well-prepared for the jobs of the future.
A government without a plan for education is a government without a plan for economic growth.
Elections are about choices and this time the choice is clear. A Shorten Labor Government will invest in economic growth and the jobs of the future by fully funding Gonski. The Liberals will recklessly and irresponsibly cut funding from schools and put future growth and jobs at risk. 
Because we are committing to the Gonski reforms on-time and in-full, every school and every student will be better off under Labor.
Your Child. Our Future will mean more individualised support and attention for students, better early literacy and numeracy intervention programs, and better professional development for our teachers.
Labor will fund better schools. The Liberals will spend $50 billion on a tax cut for big business. That's the choice Australians face this election.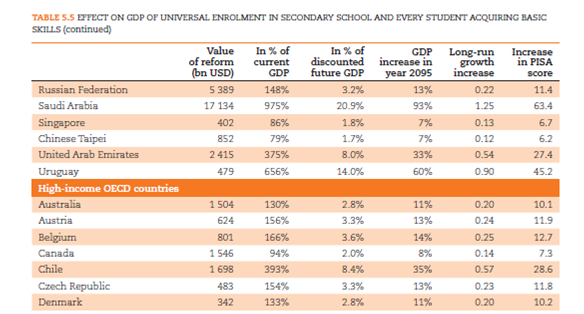 (OECD, p. 63)
 CHRIS BOWEN
SHADOW TREASURER
MEMBER FOR MCMAHON
KATE ELLIS MP
SHADOW MINISTER FOR EDUCATION AND EARLY CHILDHOOD
MEMBER FOR ADELAIDE